Shanghai Fuchan Machinery Technology Co.,Ltd.the flagship company was established in 2007,focus on one-stop Water & Wastewater treatment equipments and Separation Service Environment. The leading supplier of Screw press , Plate filter press , Belt Filter Press ,Belt /Rotary Sludge Thickener ,Polymer Dosing Unit ,DAF , Sludge Dryer and Different kinds of Pumps and so on .
SFC Belt Filter Press Details
1. Main structure made of stainless steel.
2. Cylinder tensioning device. 9-segment press rollers
3. Open frame structure with stress heavy .
4. Integrated sludge dewatering system, continuous auto running;
5. Low Power consumption : power requirement and greenhouse gas emissions, even including wash water booster pumps, are typically 20% ~30% of other sludge dewatering unit .
6. Polymer rate : Offers the lowest possible polymer dosage rate.
7 . Easy to control : The Belt Press filter is easy to control - operators can see the effect of the polymer and the process through the press. Even when enclosed, it is possible to open covers and observe when necessary.
SFC Belt filter Press Specification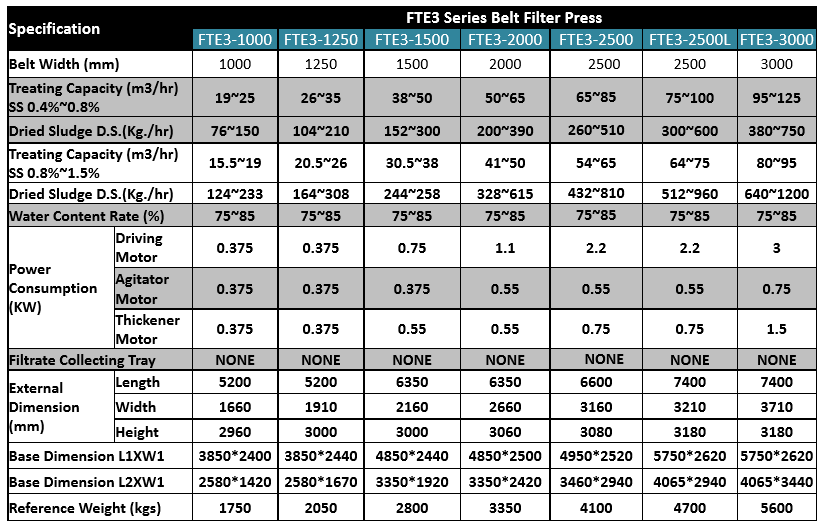 SFC Belt Filter Press Features
Air pressure control device : the filter cloth tensioned by cylinder runs in its scope stably without leakage, high security
Belt position correcting system: automatic continuous detection, correcting deviation of belt cloth so that the machine can run continuously and extend belt's life.
Press roller : material adopt SUS304, TIG reinforced welding, machined by fine processing, enough strength.
Belt cloth : imported from Sweden or Germany with the characteristics of nice water permeability, good durability and excellent corrosion resistance.
Sludge distributor : The thickened sludge shall be distributed evenly on the upper belt to ensure the equal squeezing pressure, will improve dewatering efficiency and extend the service life of belt cloth.
ASAHI bearing :Proper viscosity and good viscosity-temperature characteristic.Good lubricity.Excellent oxidation resistance and rust resistance .Free maintenance .
Control Panel Cabinet : adopts excellent component such as Omron or Schneider. Siemens PLC. Transducer adopts Delta or German ABB with stable performance, easy operation and maintenance. Leakage protection is provided to make sure safe operation.
Semi-centrifugal rotary drum thickening System : By action of positive rotation screen, massive supernatant free water can be removed. The concentration of sludge will up to 6%-9%. * For Rotary Drum Filter Belt Press only
Flocculate tank : Professional design ensuring the polymer solution and wastewater mixing in the tank sufficiently and rubber coated of the agitator to extend life time of the mixer tank .Square and circular tank optional depends on the model of the belt press .
Packing and Shipping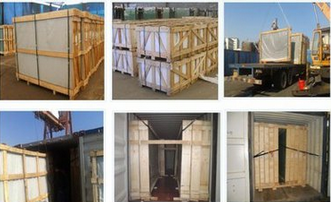 Training and commissioning
SFC Belt Filter Press is easy to installed , vendor should arrange relevant installation information to the Buyer for installation by themselves. If the buyer ask vendor for arranging engineer to operation site for installation and commissioning , kindly refer to the following items:
A. Vendor shall assign engineers to conduct installation and commissioning at Buyer's factory after arrival of equipment at Buyer's site. Buyer shall provide peripheral equipments needed for commissioning. After Buyer issues acceptance certificate, vendor shall provide training to Buyer's operators but Buyer shall not change operators without reason. Normally, it will take 3-5 days for installation and training.
B.During installation and commissioning, Buyer shall make reasonable efforts to assist vendor, provide sufficient human resources, labor and tools as well as necessary accessories and provide accommodation for Seller's installation and test run personnel. Round trip ticket, accommodation and food will be provided by buyer .More than 3 days will be charged USD 260 for one person per day .
SFC Belt Filter Press Certification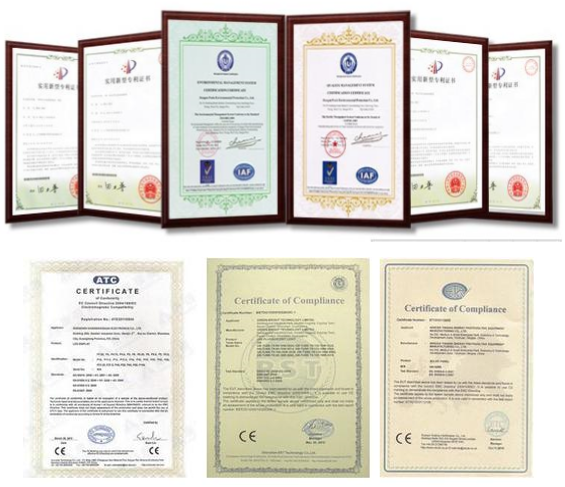 Reference World Wide
Welcome to contact for more information