The Inspection Company
Where quality matters
We are a professional and reliable 3rd Party Service provider with flexible and quick action for ensure your products quality and boost your business.
- ISO 9001:2008 certified
- Member of FOA
- Member of SEDEX
- Member of German Chamber of Commerce in China
- Quick Report on same day as inspection.
- Very Detail Report within 24 hrs
- Visual and Function Checking
- Follow AQL Standards
- Follow intern. Standard such as DIN40080, ISO2859, BS6001, NFX06-022, ANSI/ASQ Z1.04, ABC105
- Individual Inspection instructions and checklist for your products.
- Comprehensive prices for a outstanding service
Wide range of products, such as:
Consumer Electronics, Multimedia, Garments and Textile, Home Deco and Home Textile, Car Parts and Industrial, Tooling and Injection, Gifts & Premium, Home Appliances, Machinery, Furniture and Sports products, and many more.
Product Description
The Inspection Company Ltd. performs its services according to MIL-STD-105E (AQL) standard for samples and acceptance level.
According to this standard, which is almost used for all quality control inspections worldwide, it can be decided whether to accept or reject a shipment.
There are different name for this standard, such as DIN40080, ISO2859, BS6001, NFX06-022, ANSI/ASQ Z1.04, ABC105.
With this AQL Level the numbers of samples for testing and acceptance level can be clearly defined.
We perform our service for the following product lines:
Consumer Electronics and Multimedia / IT
Textiles and Fabrics
Kitchenware and Household Appliances
Furniture and Decoration
Car Parts and Accessories
Porcelain and Ceramics
Sport and Fitness
Equipment Tools and Hardware
Pre-Production Inspection (PPI)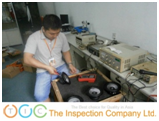 At the beginning of the production, a detail check of the quality and specification for components, materials, and accessories against clients' specifications will avoid further problems.. The PPI allows a timely corrections and improvements before the goods will be mass production.
Any non-conformity will be immediately reported to avoid delay in shipment.
In general, we will check the following aspects for PPI:
- Evaluate the production capability and equipments in the factory.
- Check factory of quality control ability and executive status
- Check the accuracy of production facilities and equipments
- Audit production techniques and make sure the reasonable layout of factory QC person
To check the quantity and quality of the raw material, components and accessories, that will be used in the products to foresee any possible discrepancy in the production and specification of your goods.
During production inspection (DUPRO)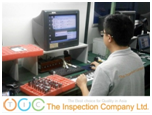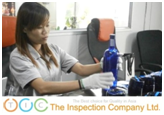 A visual check on the quality of components, materials and finished products when at least 10%-20% of the order has been completed. Randomly inspection of the finished goods and products in the production line for possible defects.
If any defects appear, a prompt action plan with corrective measurement will take place to fix the problems and ensure further production to match product standard.
In general, we will check the following aspects for DUPRO:
- Follow the flow of the materials in the production line.
- Analyze and evaluate the production status, finding of bottle necks and optimize the manufacturing process
- Pick samples randomly of the finished goods and compare them with your product spec
- Verify the packing details and packing material
According to the evaluated status and the findings we will rearrange the internal QC and improve general process.
Final Random Inspection (FRI) Pre-Shipment Inspection (PSI)
With our pre-shipment inspection service, we ensure that products ordered conform to your specifications.
In today's industry success means the ability to offer the right products at the right time for a competitive price.
To meet market demand, industrial manufactures select their materials and suppliers from all over the world. With increasing globalization, the risk of products and materials not being delivered on time and/or lacking in the quality agreed upon also grows.
Clients in different parts of the world have the common need for guarantee that ordered components, materials, products and goods will be delivered with given specifications.
In general, we will check the following aspects for FRI/PSI:
- Qty check
- Style, color & material
- Visual check of the product and packing
- Function/safety check according to client's specification and certificates.
- Size measurement
- Package details
- Shipping mark, labels, Bar Codes
- And may more
To avoid the risk of missing shipments, we suggest booking FRI/PSI at least 3-4 days prior the shipment day, to have enough time for correction of findings from our inspectors.
Notes:
1) Performing a Final Random Inspection alone prior to releasing a shipment may not prevent or uncover risks that might appear at earlier stages of the product lifecycle, such as product design, raw material procurement, and prototype testing and supplier evaluation. It is highly recommended that higher risk products be subject to greater QA intervention, such as product design review, supplier evaluation, prototype testing and the execution of PSI in combination with IPI or Dupro as the total solution to quality assurance.
2) Sample Collection can be performed at this stage for laboratory testing and examination. Product samples are selected at a factory (or other sampling location) by one of our inspectors for forwarding to a client or to a laboratory for testing. Sample collection may be performed as part of a product inspection or as a separate service.
.
100% Inspection and Sorting
When the goods are 100% completed, we will check the quality of goods pcs by pcs.
This covers the product description, style & color, overall finish, quality, function, label, package, size measurement, etc, to make sure 100% of the goods meet your specified quality requirement.
All defects get sort out and will be stored separate.
If a PSI is failed with a tight delivery schedule, a 100% sorting will provide a certain amount of good products to be ready for shipment. Any defects will be sort out and the factory can either reproduce these defects or the client can just cancel this amount from the total order.
Container Loading Inspection (CLI)
Before loading our inspector will check the products information and against packing list and clients spec, qty and packing. During the stuffing, our inspectors will supervise the loading process and ensure that the products storage are well arranged in the container with no risks of deformation, damage or collapse.
We help the supplier to finish the loading under correct and clear working clauses and working process.
In general, we will check the following aspects for CLI:
- Record the weather condition and loading location.
- The arrival time of container with the Container and Truck No.
- Check the inner/outer condition of the container to see if there is any damage/wet/hole/peculiar smell
- Check the quantity of the goods to be loaded
- Record the condition of packaging (master cartons/pallets/drums)
- Pick randomly some samples and open some cartons to verify that the right goods are inside,
- Supervise and monitor the whole loading process
- Seal the container with the custom's seal and TIC Container seal
- Record the seal No. and departure time of container.
All will be provided into a report with detail photo documentation.
Physical Audit Service

Because of the upsurge of false organizations on business-to-business stages, numerous over-seas purchasers put requests to non-existing organizations and lose their capital. To not keep this to happen, work with us and consider our Physical Review Services.
We conduct comprehensive research and check:
- If the factory really exists (factory details, contacts, real location)
- If the company's business registration is legal.
- If the company or factory really do produce goods or just resells products
Once this is done and approved, you are safe with any money transactions to any company you've chosen to be your supplier or network.
Detail Audit
In the event that you need a long term partner with the suppliers, we suggest our Detail Audit Services. This service intends to provide you assurance with your accomplice company, meet your demand for a long-standing product. We will review and check each part of the company, for example, its experience, history, service and other significant focus as you need it.
The following will be checked in details:
· The company profile
· The organization chart and structure
· The company's operation, production set-up, process and workflow
· Its building and infrastructure, facilities, machineries and equipment
· The quality assurance process, systems and certificates
· The company's financial background and number of shareholders
Social Compliance Audit
The purpose of the Social Audit is to verify the supplier's compliance with both health & safety standards (such as SA8000, SCI, WRAP, ICTI, etc.) and local labor laws.
Social compliance is rapidly becoming a top priority for manufacturers and large retailers. With more than 10 years of experience with social compliance audit, consulting, TIC reviews all findings in detail with both you and the factory, and works with factory management to quickly rectify non-compliant areas.
The Benefits of Working with TIC
· Health & safety standards are complied with
· Local labor laws are respected
· Rights of association & collective bargaining are recognized
· Discrimination, disciplinary practices, harassment or abuse is present
· Forced labor or child labor is practiced
· Adequate compensation & benefits are provided
· Environmental standards are respected
FAQ
List of our frequently asked questions on our services and work.
1. How can I figure out the right sample size and acceptance number?
We work with the international Acceptable Quality Limit (AQL) standard (see ''). If you are thinking about an inspection in the near future, you should to get your individualized inspection according to your needs.
2. What are usually the major defects found during the TIC-Inspections?
Some common defects, that our inspectors reveal regularly, are for example: Electronically function defects (e.g. incorrect wiring, incompatible battery, LED malfunction) Appearance failures (e.g. different color shades, Measurement failures, uneven stitching)
3. What happens if the vendor does not provide the specified quantity of finished products to complete the inspection you have ordered?
If the factory can afford the right amount of finished products before the beginning of inspection, the inspector will start to inspect. However, if the correct quantity is not finished up to the inspection date the inspector cancels the inspection and reports it in the unfinished report.
4. How can TIC ensure anti-bribery?
To provide our clients an excellent service we ensure that all of our inspectors and employees stay away from any kind of corruption. In general Bribery is often associated with Asian countries. We work to eliminate these distortions of competition. All our inspectors are experienced and we work with them for several years. Additionally, all inspectors have to sign an anti-bribery contract after every inspection, to prove that they have worked responsibly and ethically.
5. Can I also book one service containing more than one type of product?
Yes, we can perform inspections of several models at once. Every model will be listed separately in the report then. When using our online booking service you can insert and save several products. This enables you to save time during next orders.
6. After I receive confirmation for my order, can I change or update it? How?
You need an Account at TIC website. Just login and change the current status of your order in the tab 'My Bookings'.
7. How long does it take to receive the report?
We provide a Quick Report within the same day of inspection. The detailed report is sent to you within the next 24 hours then.