We specialize in manufacturing beer brewing equipment
Quality is the Assurance of Orders
We are KUNBO

Industrial Fermenter
Company introducation
We Kuangbo is a production enterprise of pharmaceutical, dairy, food and beer-making equipment, alongside biological engineering, chemical containers, and bespoke products. Our products are widely used in beer production, pharmaceuticals, beverage industries, biotechnology and other fields.
Usage
It is used for beer fermentation & brewing. It applies in brewing industry.
Material
Stainless Steel 304 or 316L
Technology & Design
1. It is made of double jackets with dimple jacket and insulation layer filled with PU which is imported from Japan.
2. Dish top, conical bottom for good fermenting, improving the quality of beer as well as breeding yeast, cylinder body.
3. As to polish, interior layer and dish top will adopts 3A mirror polish while exterior layer and conical bottom adopts 2B satin polish.
4. As to transition of interior, we will adopt arc to make sure that there is no dead corner of sanitation.
5. 10-30% headspace, 60 degree cone, rotating racking arm is designed according to your demands
6. All clamps valve and fittings except for cold water inlet and outlet which is Tri-clamp.
7. As to the thickness, we can make it according to your requirement.
Volume
50-100,000L
Advantage
1.Configuration details can be designed as your requirements
2.Competitive price and also higher quality tank.
Minimum order
One unit
Payment term
T/T or L/C
Package
Export standard package
Market
At home and abroad
Fermenter Tank Technical Parameter
Working Volume (L)
Dimension of Tank (D*H) mm
Total Height (H) mm
Diameter of Inlet&Outlet (mm)
PU Insulation (mm)
Manway Size (mm)
500
Dia 800*800
1750
Dia 38
50
440*320
1000
Dia 1000*1200
2200
Dia 38
50
440*320
1500
Dia 1100*1400
2500
Dia 38
50
550*430
2000
Dia 1200*1500
2700
Dia 38
50
550*430
3000
Dia 1400*1700
3150
Dia 51
50
550*430
4000
Dia 1500*2100
3450
Dia 51
50
550*430
5000
Dia 1600*2200
3590
Dia 51
50
550*430
6000
Dia 1700*2200
3650
Dia 51
50
550*430
8000
Dia 1800*2700
4350
Dia 51
50
550*430
10000
Dia 2000*2800
4450
Dia 51
50
550*430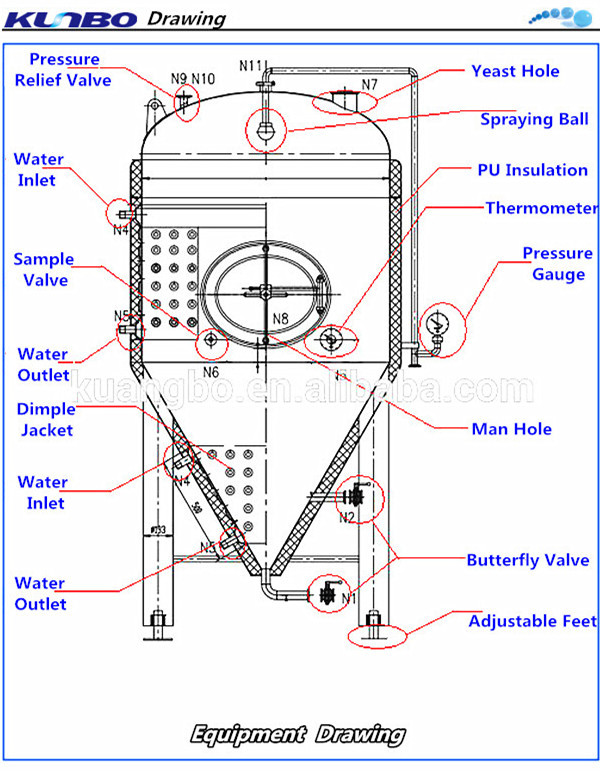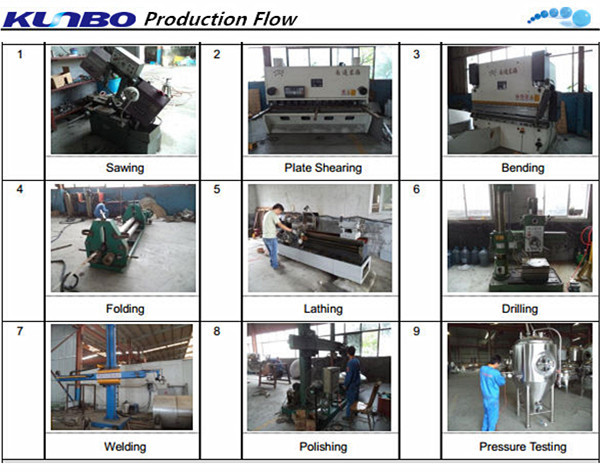 FAQ
Why choose us:
1.Specialist manufacturer
We have own factory. We get CE certification.We specialize in manufacturing beer brewing equipment.
2.Quality and price
We have professional purchasing team. Comparing multiple vendors,choose
best raw materials and the most preferential price. We have skilled worker and
strict quality control system,provide the best quality products to our customers.
3.Convenient transportation
Our company is located in Hangzhou Zhejiang,which is near Shanghai port and Ningbo port. It just take 2 hours from shanghai to our factory and take 3 hours
from Ningbo to our factory.
4.Clear order process
We have clear order process. From mails &calling→→Order confirmed→→Make advance payment→→Workshop produce→→Pay the balance→→ Arrange goods delivery→→Buyers receiving confirmation→→Satisfaction survey.
5.Quality of service
We will provide photos make our customers to know the order status.Of course,we welcome our customers to our factory to inspect any time!